This conference is sponsored by:


The Colombia & Kenya Experience
Seafreight replacing or supplementing airfreight, this is the question.
Shipping flowers by boat from Africa to Europe is not only possible, it is the future alternative for airfreight. South America is already 'doing' it. By 2030 it is expected that 50% of all perishable products will be transported by boat. How ever this can only happen in case the necessary logistical conditions will be met. So there is a lot of work to do. Diseases, delays are just a few factors that can cause huge damages to the products.
But not only on the logistical side one can think of various challenges, also the breeding and production will require extra developments needed to make it all happen. Bringing two countries together to the table that already export their perishable flower products by boat will not only be a interesting opportunity to be part of, but also very informative.
For this reason several key players currently directly or indirectly involved in the flower industry of Kenya and Colombia, will be brought together in a panel and for the biggest part interact through Q&A's through the participants in the audience. A morning session that will take place on Tuesday November 8 at the auditorium of the same venue, where IFTF 2022 will open its doors the next day, i.e. on Wednesday November 9.
Location:
Auditorium Expo Greater Amsterdam (formerly Expo Haarlemmermeer)
Stelling 1
2141 SB Vijfhuizen
Holland

Date: Tuesday November 8, 2022
Time: 9:00 a.m. – 12:00 p.m.
Discussion type: Q&A
Coordination: Mr. Rogier Elshout (Moderator)
Panel Members:
Mr. Clement Tulezi
CEO, Kenya Flower Council (KFC), Kenya
Mr. Carlos Manuel Uribe
Board member Asocolflores, CEO Flores El Capiro, Colombia
Mr. Christopher Kulei
Director, Sian Flowers , Kenya
Mr. Danny Levenswaard
Director Breakbulk & Agrofood, Port of Rotterdam, The Netherlands
Mr. Christo van der Meer
Manager Seafreight Reefer, Kuehne+Nagel East Africa, The Netherlands
Mr. Carl Lorenz
Managing Director Eastern Africa Area, Maersk, Kenya
Mr. Niels van Doorn
General Manager, Chrysal Africa Ltd., Kenya
Mr. Jeroen van der Hulst
Managing Director, Flowerwatch, The Netherlands
Programme:
08:30 a.m. – 09:00 a.m. : Check-in/coffee & pastries
09:00 a.m. – 10:15 a.m. : First session
10:15 a.m. – 10:45 a.m. : Coffee break
10:45 a.m. – 12:00 a.m. : Second session
12:00 p.m. – Closure
12:00 p.m. – 1:00 p.m. : Coffee & sandwich lunch
Online registration only
Limited number of seats
Participation fee: Free of charge (Sponsored by IFTF).
REGISTERING FOR THE CONFERENCE IS NOT LONGER POSSIBLE!
---
From Kenya to the world- flowers by ocean.
Ocean transport of Sian Flower's produce helped the company overcome the pandemic-induced volatility in air freight rates while helping it achieve its sustainability goals.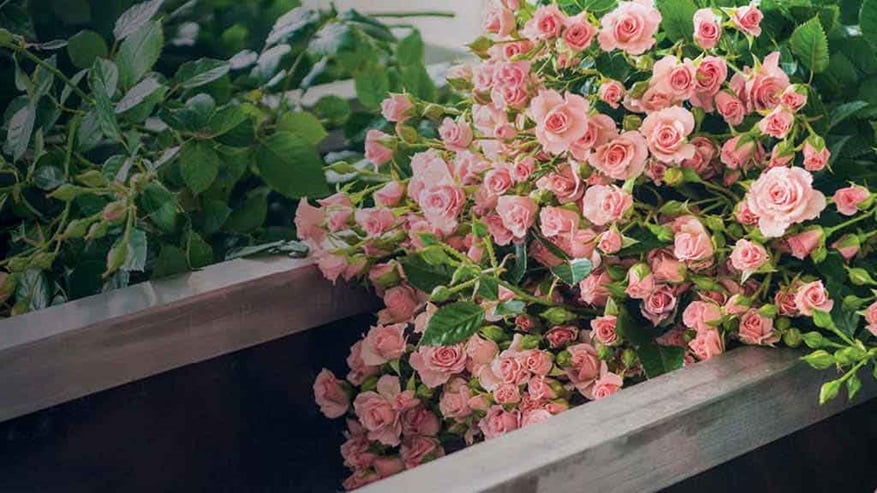 The customer
Sian Flowers is a leading Kenyan producer of high-quality roses and summer flowers, exporting their blooms to Europe, the United States, the UAE and Australia.
The company has won regional and international recognition for pursuing rigorous sustainable practices, including limiting the use of pesticides and the conservation and treatment of water. In addition, Sian is Fair Trade Certified, paying great attention to the welfare of workers and the community.
The challenge
When the Covid-19 pandemic hit, Sian Flowers' supply chains, especially to Europe, were impacted, as it was for other players in the industry.
Fewer flights were operating to western markets, and space on board was limited, making it difficult to secure space for Sian's entire cargo, which resulted in wastage of produce. Air freight rates had also become prohibitively expensive, which had an impact on margins.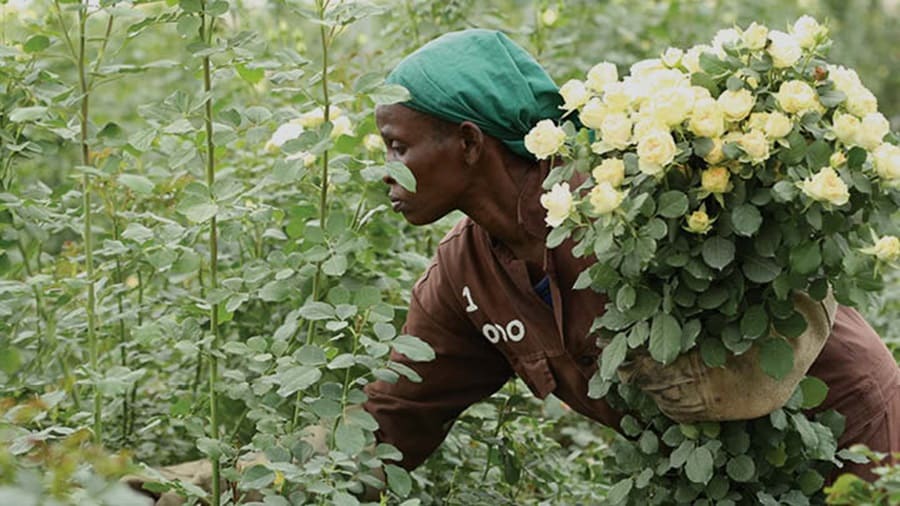 Everyday challenges were disrupting the seamless movement of their sensitive flowers too – multiple touchpoints between the farm and port jeopardized the vase life of their cut flowers.
These issues notwithstanding, Sian was committed to environmentally sustainable practices and believed they needed to find ways to reduce their carbon footprint.
The Maersk solution
Maersk's team in Kenya devised an end-to-end cold chain solution that facilitated the easy movement of the cut flowers from Mombasa to Rotterdam by ship instead of plane.
These included:
A cold room facility in Nairobi
Cold storage of loose cartons in cages
Palletisation, stuffing and booking services
Trucking from Alpha to Mombasa
Customs brokerage at Mombasa and Rotterdam
Trucking from Rotterdam port to Aalsmeer
Deconsolidation services in the Netherlands (de-stuffing, sorting and storage)
Operating twice a week from Mombasa, Maersk shipping vessels transports the refrigerated cargo to Rotterdam in Controlled Atmosphere (CA) containers providing Sian with control over gas levels in the container while their flowers are in transit on the ship.
Captain Peter, Maersk's proprietary digital visibility assistant, offers Sian remote monitoring of the temperature and humidity levels in the container along the journey, enabling them to act to maintain the CA containers' conditions intact. One of the most important aspects of the ocean solution and conducive to maintaining the freshness of the flowers on arrival at destination is the reliability of our ocean schedule times, which we guarantee, as well as the offer of long-term freight rates that could lend stability to Sian's finances in a volatile environment.
The result
Sian's delicate flowers have been traveling seamlessly and reliably across Kenya, thanks to fewer touchpoints and a single point of contact. All their cargo is allocated space on board Maersk's Ocean vessels, which has become a viable alternative to air freight.
The flowers continuously arrive fresh to the Netherlands, where logistics is efficiently coordinated ensuring the flowers reach markets on time and enjoy a good vase life. Sian has also been able to achieve a near-90% reduction in greenhouse gas emissions with ocean transport.
"Maersk being the biggest shipping line in the world, one of the biggest logistics companies in the world, had the capability to not only guarantee the delivery of our flowers in good time, they also gave us the capability to monitor, and really keep an eye on the product as it travelled for weeks by sea." Christopher Kulei Director, Sian Flowers Group of Farms.
Source: Maersk
---
Moving forward with Sea Freight: The Flower Hub sends its first full container to UK 330,000 Roses are on their way.
Think of fresh flowers shipped globally from Kenya, and you would probably assume that they are sent by air – which has been the way for many years, given the perceived fragile nature and relatively short vase life of the blooms.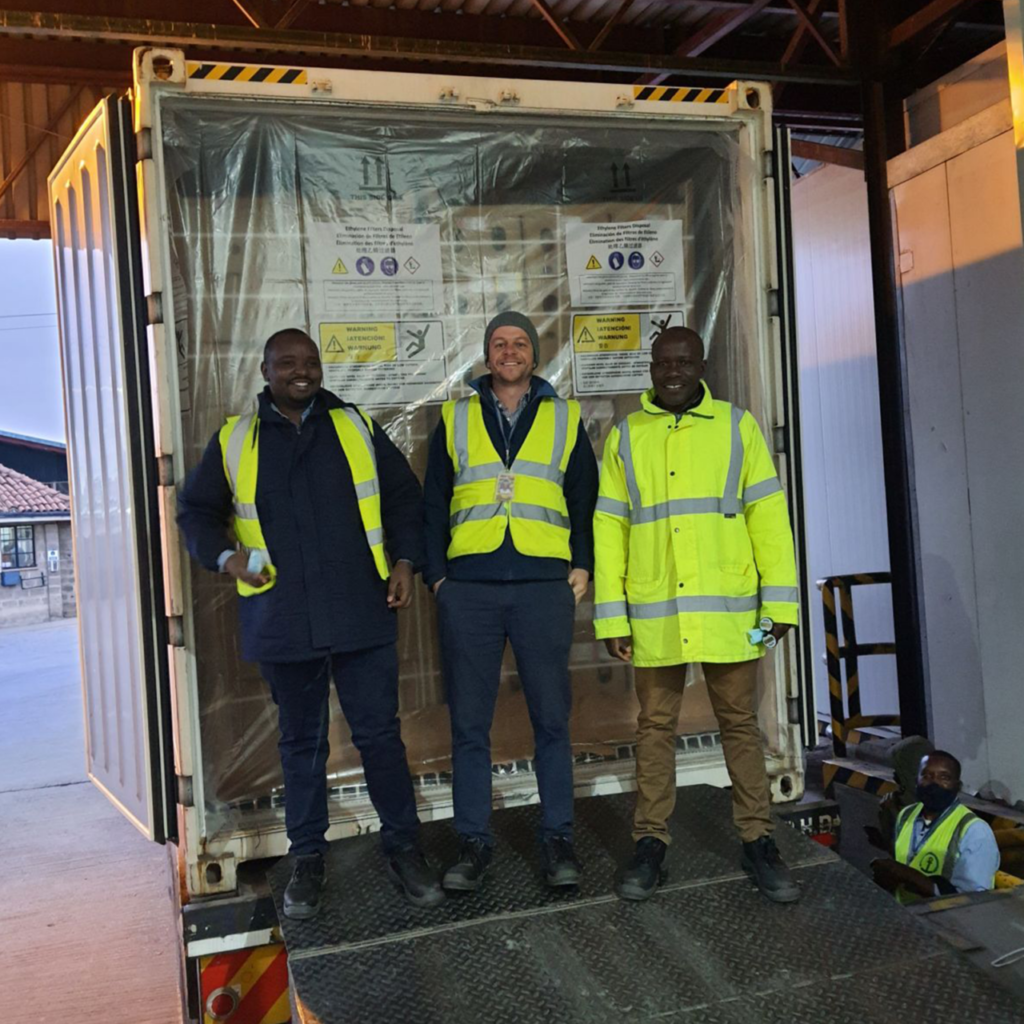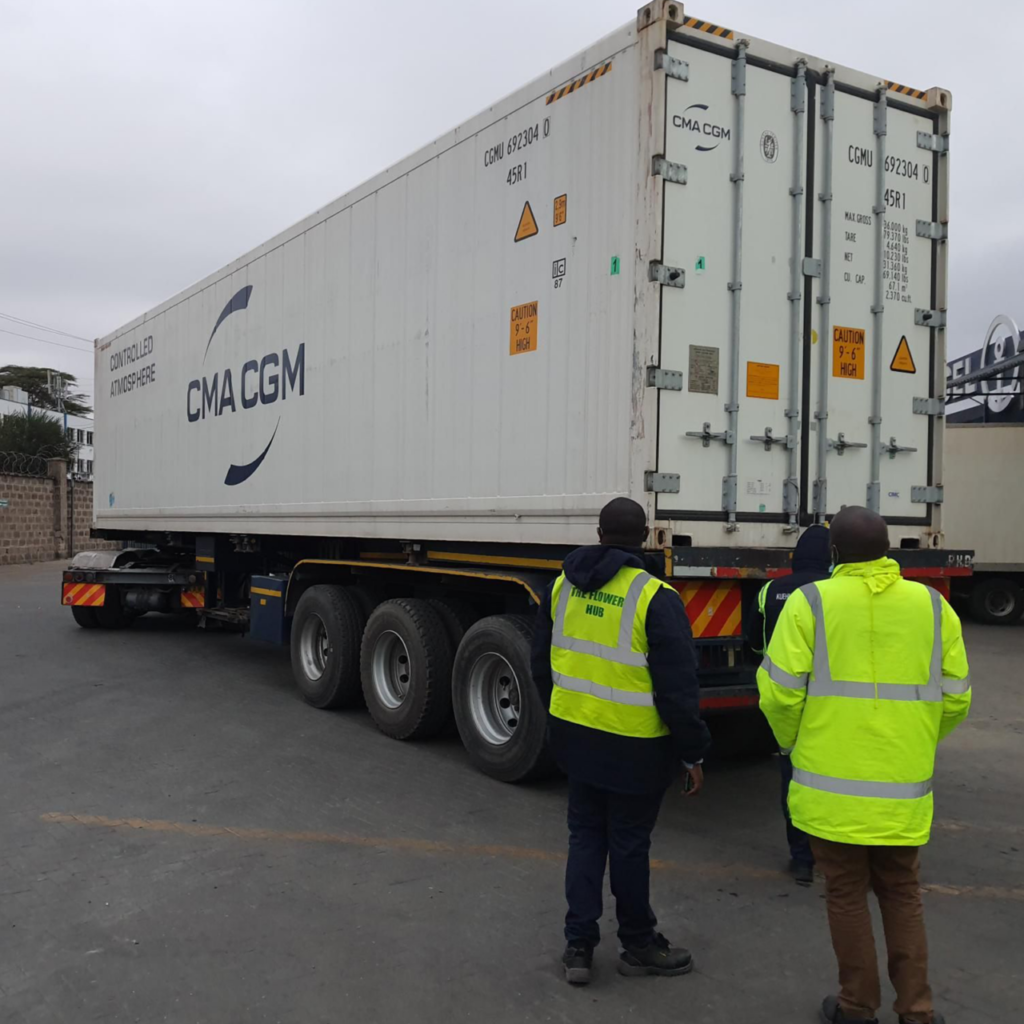 Due to massive disruption caused by Covid 19, however, there has been an unexpected shift in the mode of transportation.
The Pandemic left the Kenyan air freight services in considerable disarray – in 2020 capacity dropped by up to 40% while prices soared. During that time, government-imposed lockdowns and restrictions on gatherings throughout the world led to a huge slump in demand for flowers. Many growers were left having to destroy part of their harvest, and the industry was seriously under threat.
As a response to the Pandemic, The Business Partnership for Global Goals programme, funded by Foreign Commonwealth and Development Office (FCDO) UK, set up the Vulnerable Supply Chains Facility (VSCF). Together with Flamingo International of Holland, the VSCF supported a 12-month project to test the viability of sea freight transportation of Kenyan flowers to Europe and the UK.
Previously the routes were underdeveloped due to the many flower producers who were reluctant to use sea freight. Any delays on such a time-crucial cargo such as bad weather, port strikes or negligence could lead to the entire crop being wasted.
Today there remains a shortage of air freight capacity along with continually rising costs, so the sea freight option is rapidly expanding as growers have sought to rebuild their livelihood.
The Flower Hub has responded to the challenge, and has just despatched its first full sea container from Mombasa to the UK, sailing to Southampton via Jeddah. The journey will take 23-25 days depending on the weather.
How do the flowers last during a voyage which takes over 3 weeks?
Effectively they are "put to sleep" for the duration of the journey! They travel in a special Controlled Atmosphere Container at a temperature of 0.5° Celsius. The container also reduces the oxygen level to 4%, while increasing the carbon dioxide level to 4%. This is to regulate transpiration and respiration, keeping the flowers dormant.
On arrival in the UK, our container will be unloaded before inspection by Customs and DEFRA. Then the flowers are unpacked as they would be after air freight, the stems are trimmed and they are placed in buckets of water with flower food – a sterile sugar solution, to wake them up. We like to compare it with having a cup of tea in the morning to get you going again after a good night's sleep!
It has taken us three sets of trials to get to this stage with The Flower Hub, reviewing everything from different crops and the reactions of different varieties, to the shapes and sizes of our boxes. Our flowers are currently travelling in a 40ft container housing 20 pallets, containing 480 boxes. The approximate stem count is around 330,000 – that's a lot of roses, all heading to a supermarket in the UK!
On arrival in store, the flowers are sold with a vase life of 7 days or more, which is comparable with that of air freighted blooms – a challenge to the industry perception that sea-freight flowers have a shorter vase life. In fact, it has been noted that some roses actually travel better this way.
Sustainability and Social Benefits
A common perception with regard to air freight is that the environmental footprint of Kenyan flowers must be massive. Much of this is actually offset by growing the flowers outside, as opposed to the use of heated greenhouses in Northern Europe.
Sending flowers by sea, however, can reduce carbon emissions by up to 95%.
Using sea freight means greater capacity, so more flowers can be grown for export. This year so far, more than three hundred containers have been exported from Kenya by sea (Jeroen van der Hulst, chief executive at FlowerWatch). This opens the way for more employment for growers and packers, who have undergone extra training in new packaging techniques to prepare the blooms for the longer journey time.
Although sea freight costs are also on the rise, air freight charges are still likely to remain higher. In the long term it is projected that around 20% of flowers bound from Kenya to Europe and the UK will travel by sea.
Source: The Flower Hub, Written by: Anna Langmead