IFTEX 2023 great success!
The 10th and largest edition of the IFTEX has come to an end. Last Thursday, the Oshwal Center in Nairobi, Kenya, where 165+ growers and suppliers exhibited, closed its doors. "It is a true grower-buyer show, and this year it achieved to become the perfect show in this industry," says Dick van Raamsdonk, General Director of HPP Exhibitions (the organization), when looking back on this edition. "In three days, buyers could see the whole range of flowers Kenya has to offer." FloralDaily was present to make an extensive photo report and to learn more about the developments in the market.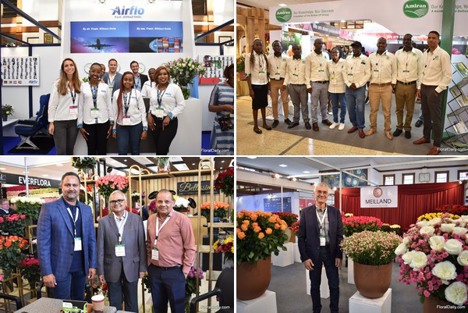 Diversification
So what stood out? First, the large range of flowers on display. Compared to other years, there are many more varieties of flowers presented at the stands. Many rose growers have started to diversify their assortment with summer flowers. This trend started a few years ago in order to spread risk better, but now there is also an increasing demand from Europe and the Middle East for these products. And by offering a larger assortment, growers are becoming more of a "one-stop shop" for their direct customers. The rose still remains the main product for many growers, but here too, growers continue to innovate and expand the assortment. "It is no longer the small cheap rose. Now also the 'high end' roses are available," says van Raamsdonk.
Solid competitor to Colombia
North America is the biggest market for Colombia, and for Kenya, it is Europe, the Middle East, and Asia. During the opening ceremony, a comparison with Colombia in terms of growth was already made by Richard Fernandez of Kenya Flower Council. Here he explained that Colombia has doubled in acreage over the past 50 years and that the same is expected for the floriculture industry in Kenya, now 30 years in the making. And according to van Raamsdonk, Kenya is becoming a solid competitor for Colombian growers exporting to Europe and the Middle East. "Not only in terms of diversity but also in terms of quality, Kenya can surpass Colombia in these areas. The journey of the flower from Kenya to those areas is shorter, and therefore, quality remains higher, and transportation costs will be lower. This will make it a solid competitor to Colombia."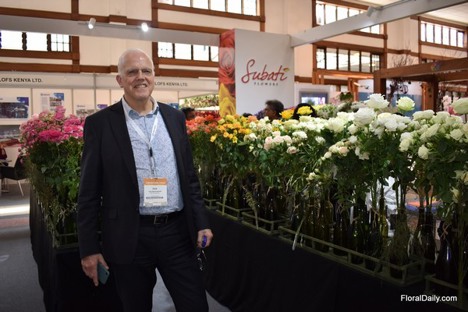 Challenges
In addition to the potential and expected growth of Kenya's floriculture industry, there are some challenges that growers have (and continue to) deal with. High costs are one of the biggest challenges, and botrytis was a problem many growers faced last month. Fortunately, demand was good from Europe for the past 6 months, but it is now down due to good weather and consumer vacation plans in Europe. However, sales to the Middle East seem to ease it somewhat.
Trends
Another trend that was visible at the show was the consolidation of farms and that more farms are making bouquets at the source. And regarding innovation, several companies see opportunities to make the Kenyan floriculture industry a more data-driven industry. "Kenyan growers live on WhatsApp and Excel," an exhibitor chuckles, "but once they see the benefits of using their data and AI, for example, change is expected. And not only for the growers, for the entire industry."

Positive atmosphere
The atmosphere was very positive on the show floor. "There were many buyers from many different countries, and this year, we saw quite a few more from the Middle East," said van Raamsdonk. "All in all, we are very satisfied with the quality of the visitors and what the companies showed at the fair."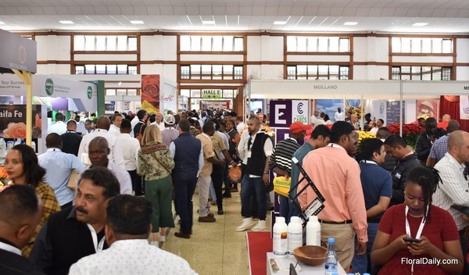 Next level
According to van Raamsdonk, this 10th edition – celebrated with a good party on the evening of the second exhibition day – has reached the next level. "Last year was the first edition after Corona, and this year we have had the best fair ever in Kenya." And for the floriculture sector, IFTEX is really well established. "IFTEX is considered an important platform for the Kenyan Floriculture industry, and of course, we as an organization are very proud of that. However, this does not mean that we are now sitting back. There is always room for improvement! We may have reached the 'next level,' but this also means that there are still more levels to reach. For example, we are, of course, always looking for more buyers." Next year's IFTEX will again take place Tuesday through Thursday, June 4-6, 2024.
Source: FloralDaily
More news